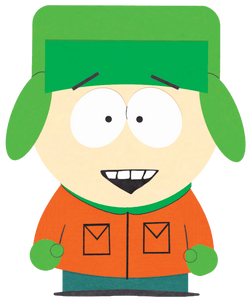 Kyle Broflovski, as seen on his
Okay, not just today.
Okay, it's taken me eight years to learn this (sheesh!)
Here's the thing: I suck at winter. Yeah, pretty much. Every single year, my artistic juices dry up, or freeze up, or go south for the season ... I don't know. Anyway, no portraits get produced from at least December to March. When I try to paint, it's ... well, it's not pretty.
So, instead of making my wonderful clients, who would no doubt like their commissions in a timely fashion, wait through the dark months with me, I'm starting a new practice. I'm actually a little excited about it.
I intend to take commissions and work normally through the spring and summer, do my next fall
portrait marathon
, then shift gears: no more commissions until I'm good and ready. In between, I'm going to allow myself to learn, play, grow, experiment, practice, study, waste materials, and possibly (
it could happen!
), just maybe, produce something worth looking at along the way.
But wait! That's not all!
I plan to visit animal rescues, refuges, sanctuaries that don't focus on dogs and cats, take a lot of pictures, talk to the staff, meet the animals, and use those encounters and my reactions to them as inspiration for all this experimentation.
Now for the really good part. If anything gets done that I'm happy enough with not to paint over, burn, or submit to the
Museum of Bad Art
, I will find some way to sell it, and share the proceeds with the sanctuaries themselves. So, that's pretty cool, huh? I'm almost excited for next winter, now.
But not yet. Right now, I can feel the siren song of Spring calling to my dormant muse. I can tell things are starting to brighten up not just because the sun is up past 5pm, but because I just now managed to finish my annual Hope for Hounds design, and I pretty much like it! (You'll see it soon enough. Don't get pushy! ;) )
I've spent my semi-conscious winter days seeking inspiration and energy from the gentle glow of my computer screen's offerings, searching out other artists and their work, watching tutorials, reading blogs, browsing image searches, and emailing with my artist friends. Yesterday, something clicked over in my innards, and I had a wild urge to try something I'd found along the way. I grabbed a panel that had been ruined with a bad painting, sanded and primed over (not good enough for a commission, but okay for experimenting). I cast about for a subject, and my eye landed on a snapshot of my first dog, my little poodle Hobie, on the cork board over my painting table. I grabbed some conte crayon, tossed it aside for a pastel pencil, erased most of that and fine tuned the rest of the drawing with vine charcoal. It came together so quickly! Just free-hand; no grids, no reference photoshopped-and-printed-actual-size, just me and the curling snapshot. Okay, drawing down. Should I fix it with a fixative or glaze, or just paint on into it, letting the drawing melt into the paint? Yeah. That. A few hours later, I was pretty much done. To my amazement.
Hobie
8" x 10" acrylic, pastel, vine charcoal on gessoed panel
© Xan Blackburn 2013
(Does he look guilty, or irritated? He was! He had this habit of wadding up blankets, and sucking on them, leaving a big wet gooey blanket-teat, and I'm pretty sure that's what he was up to when I snapped the picture.)
I really wanted to keep the brushwork loose, simple, un-refined. I didn't succeed on that score entirely, but it's a lot looser than I usually work. Here's a closer look, so maybe you can see what I mean.
Hobie - detail
© Xan Blackburn
I kinda like it. It was a very liberating experiment I wasn't sure I could even manage, allowing myself to let go of expectations for a "pretty" painting, or even a likeness of Hobie himself. Since it actually did come out looking pretty well like him (I left out the skin freckles showing through his very short fur), I pronounce myself ready to get back to work.